IBMS response: State of Care 2022/23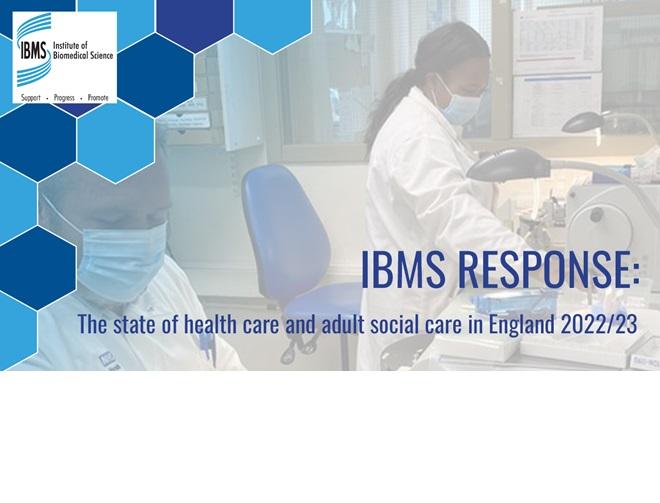 30 October 2023
Care Quality Commission's report shows the need for programmes that extend biomedical scientist practice to increase the support they are able to provide to their medical colleagues

Last week the Care Quality Commission released its report The state of health care and adult social care in England 2022/23 – looking at trends, examples of good and outstanding care, and areas where care needs to improve.

It is broken down into sections focusing on problems with people's access to care, the quality of care that people experience, who is more likely to face inequalities, the Deprivation of Liberty Safeguards, the health and care workforce, and the new integrated care systems.

The report not only highlights a delay in access to appropriate diagnostics but also the health inequalities in cancer treatment.

As our Long Term Biomedical Scientist Workforce Plan highlights, better and more widespread use of appropriately qualified advanced practice biomedical scientists would help ease the increasing pressure on histopathology services – by providing additional support to our medically trained colleagues.

IBMS Deputy Chief Executive Sarah May said:
Our work with the Royal College of Pathologists has enabled the introduction of professional qualifications that support the development of extended and advanced roles for biomedical scientists. These individuals are trained and competent to undertake some of the high volume and lower complexity reporting workload, leaving the medical pathologists to report the highly complex diagnostic cases.

The IBMS recently launched two histopathology reporting qualifications for biomedical scientists specifically aimed at supporting the biopsy workload generated by the cervical and bowel screening programmes. The biomedical scientist workforce represents a safe and effective solution, working collaboratively through integrated training programmes, to safely sustain and improve histopathology services, ensuring that every person diagnosed with bowel cancer or cervical cancer receives the right diagnosis and right treatment at the right time.

The support of all four UK nations for the development of the expert and advanced biomedical scientist roles is key to helping reduce UK health inequalities and improving access to rapid cancer diagnosis. This now needs to go further to alleviate some of the pressure the current histopathology workforce is facing. It is imperative that we support and upskill the workforce in a manner that is safe, efficient and meets nationally recognised standards so that we provide better quality care for all patients.
Back to news listing