Thank you to all our volunteers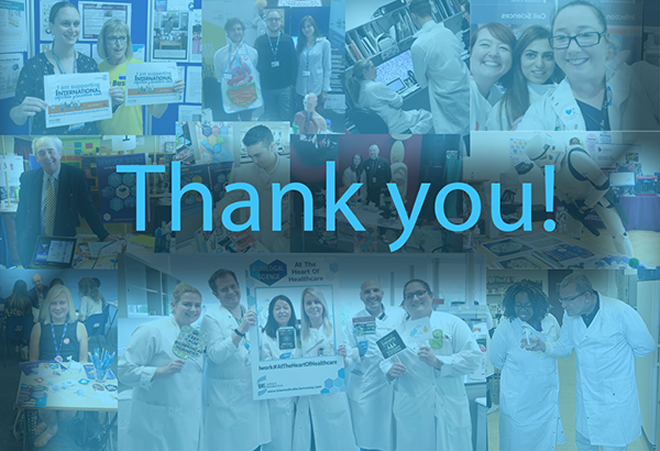 5 December 2019
Today is International Volunteer Day, a day that highlights the contributions of volunteers across the world
For International Volunteer Day we'd like to thank our members who give up their time to promote biomedical science through public engagement. Public engagement is an important way of informing the public about their healthcare and inspiring the next generation of workers.
This year 478 members have given their time to visit schools, organise talks and activities and run stands at events and in hospitals around the UK. Thanks to their hard work throughout the year, lots of adults and children learn about the biomedical science at the heart of their healthcare and are encouraged to join the profession.
What our members say
Ian Davies, Senior Lecturer of Biomedical Science at Staffordshire University said,
"Volunteering is really important to me - ever since school I've undertaken voluntary work as a way of developing different skills or gaining experience and to feel part of the community I live in.
In fact, being able to talk about my volunteering in an interview helped me get my first biomedical scientist job, and when I became the interviewer as a laboratory manager, applicants who could demonstrate a commitment and passion for volunteering always scored highly."
Karen Goodall, Specialist Biomedical Scientist/Training Lead, Regional Immunology Laboratory, Royal Victoria Hospital said:
"There is a little buzz from chatting to people who previously didn't know we existed, passing on our (often slightly nerdy) enthusiasm for the work we do, and seeing that reflected in the level of genuine interest shown by the public.
It can be nerve wracking to start with, but the staff camaraderie I've experienced, particularly for big events like Biomedical Science day and our own Laboratory Open Day for school students, makes everything so much more fun – and easier all round!"
Supporting our members
Our members have supported over 600 events this year, including Biomedical Science Day - our biggest public engagement event of the year. To support them we have created Superlab comics to reach a younger audience and Sample Journey videos to show the public what happens to their samples and how biomedical science is at the heart of their healthcare.
With the help of IBMS members we have also developed a range of new activities to use for educating students about the profession. From DNA beads to UV handwashing experiments, we were delighted to introduce these new activities for our members to download.
Many of our members hosted laboratory tours for other healthcare professionals, to see the different specialisms involved in biomedical science. To assist with this, we developed a poster to encourage laboratories visitors to invite NHS staff for a tour of the laboratory and to meet staff.
Want to volunteer?
Join our public engagement network today and get the latest updates for when there's an event happening in your area. For more details visit our volunteering page, you can also order public engagement materials to support your events, whilst there are free resources for non-members to download. We offer free downloadable posters for the public and free promotional items for our members.
Promoting the profession is so important to the future generations, we are delighted to have so many members take part in volunteering every year.
On behalf of the Institute, we would like to thank all of our members for sparing the time to volunteer. The time you spend conducting laboratory tours, answering questions and offering fun activities can help inspire children to consider a career in biomedical science.
Contact pe@ibms.org to learn how you can join.
Back to news listing