Advancing Healthcare Awards 2023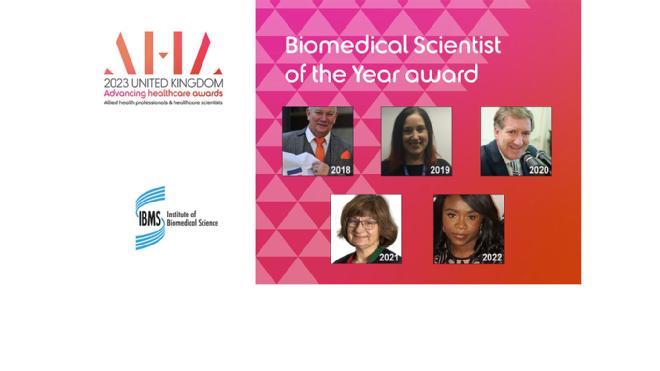 17 October 2022
The national Advancing Healthcare Awards 2023 are now open for nominations
The IBMS is once again proudly sponsoring the Advancing Healthcare Award for Biomedical Scientist of the Year 2023. The category celebrates an exceptional biomedical scientist who has led the way for others in the field, using their skills and expertise to make an impactful change to patients' lives.
This year's award for Biomedical Scientist was awarded to Bamidele Farinre, Scientific Advisor at the UKHSA (Lab Validation and Quality Assurance), for her excellent contributions to nationwide pandemic efforts. In particular, her idea to set up a mobile-based testing system for COVID-19 was commended by the judging panel. Read more below to find out about award winners from previous years as well.
In general, the Advancing Healthcare Awards celebrate the work of health professionals, healthcare scientists and others who work in collaboration with them to support innovative healthcare practice across the UK. The last couple of years have proved to be especially challenging for those in our profession, but even still, biomedical and other healthcare scientists have consistently delivered excellent services under immense pressures and with a reduced workforce.
These Awards recognise the dedication of healthcare professionals in the face of such adversity; inspiring the biomedical workforce of the future and cultivating a sense of community amongst sponsors, supporters, award-winners and finalists. Submitting an entry to the Advancing Healthcare Awards allows a well-deserved spotlight to be shone onto our profession.
How to apply
To be considered for the Biomedical Scientist of the Year award, nominees must be a HCPC registered Biomedical Scientist practising within the UK. You may nominate yourself, a colleague, or suggest that they nominate themselves.
Nominees must be able to show evidence of:
Measurable achievements
Leadership and team working
Impact on patient care
Important dates
w/c 3 October 2022 – Nominations open
24 January 2023 – Deadline for submissions
26 January – 8 February 2023 – Shortlisting to take place
w/c 27 February & w/c 6 March 2023 – Judging panels to be held
21 April 2023 – Awards Ceremony
We would like to encourage our members to nominate themselves or any strong candidate they know. For more information and top tips for entering visit the AHA website.
Previous winners: Biomedical Scientist of the Year
In 2021 the award was presented to IBMS member Dr Sarah Pitt for her role in sharing fact-checked, professional and scientific information about COVID-19 on behalf of IBMS members and the biomedical science profession throughout the pandemic.
In 2020 the award was presented to IBMS member Dr Guy Orchard for his innovative work and contributions to patient care.
In 2019 the award was presented to IBMS member Dr Jo Horne for pushing the boundaries of the profession.
In 2018 the award was presented to IBMS member Malcolm Robinson for his Harvey's Gang charity project.
Back to news listing